Okay, before I start, here is what we have so far:
1 Introduction
2 Basic Navigation
3 Navigation 2
4 Settings
5 Settings 2
Now, moving on to the posts. Posts include both of understanding different parts of the post and also to take some actions toward those posts, such as forward or save it. I already explained how to post in the 'Navigation' section so I won't repeat here.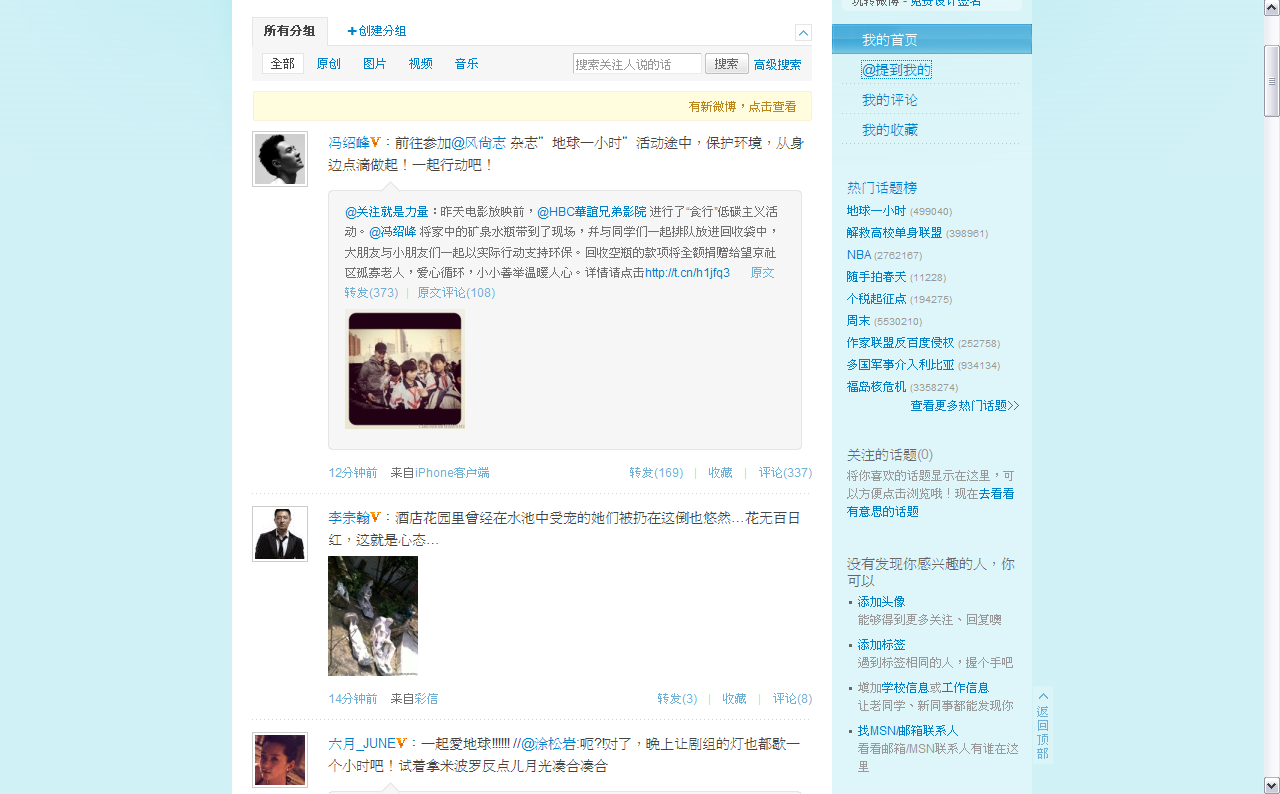 Okay, this is a bit hard to see but I'll break it down in a bit. Just want everyone to get a view of the post area.

This line comes on once in awhile telling you there are new posts, depending how fast the people you follow post something or you forward something. When you click on it, you get this:

This tells you to wait a bit while it's retrieving new posts. And sometimes it doesn't work, so you scroll up a bit and click on 我的首页 (My Home) to refresh the page. (You should be able to find it just above the input box. I already talked about that navigation strip in the 'Navigation' section.) Then you should be good.
Another thing is the area above the posts.

This is just below the input box.
所有分组 = All Groups
创建分组 = Create Group
I didn't create a list for different groups so mine's empty. But you could create your own or organize it however you want.
Under 'All Groups', there are different options.
全部 = All
原创 = Original = Posts that are posted by the users you followed, no forwards whatsoever
图片 = Pictures = Posts with pictures
视频 = Video = Posts with video links or uploads
音乐 = Music = Posts with music
You can choose to look at those only however you want.
EDIT: I finally created some lists so here goes with mine:

I have several lists so it needs to be expanded so once it is expanded, it shows more options:
The one with the + sign next to it is for you to add more list(s) if you want.
The one with the up and down arrows is there so you could re-arrange your list. If you click on it, a box will pop up: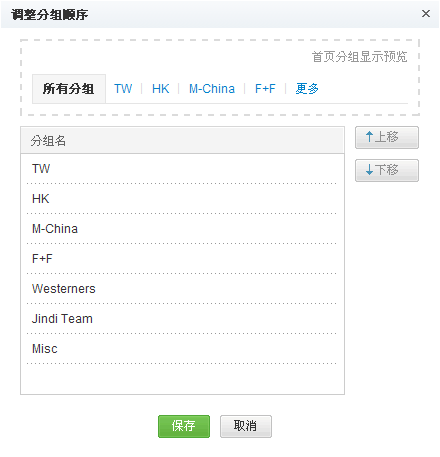 Then you can re-arrange the lists and then Submit with the green button and to Cancel is the silver button. (Like most of the navigations.)
Then the last link shows some tool symbol next to it, which is to manage the lists some more, etc. It's going to take you back to the 'Friends' page, etc.
But to get back to the navigation on the post page, the box to the right side is the search box. You can search for topics or events being discussed by the users you followed here. Just click on 搜索 (Search) after you're done with the input. 高级搜索 is advanced search option.

This is what the advanced search box looks like. You can choose different requirements for it, etc.
One of the things you could do with the option strip/search area is click on the arrow to the right top corner to close that area off if you're not using it. If it doesn't bother you, then you can leave it. Up to you.
Moving on to the post now.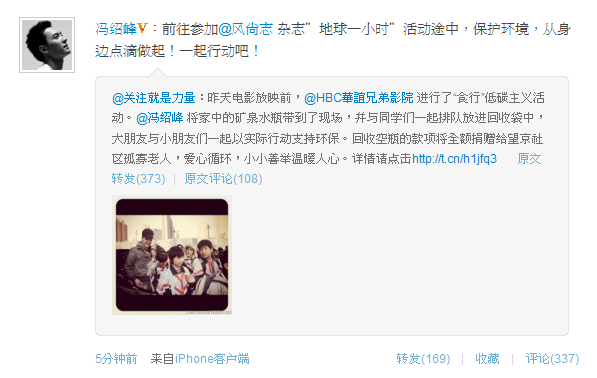 I'm using one of William Feng Shao Feng's post to demonstrate since most posts have the same information around it. First off, there are a lot of posts throughout the page since it's within your homepage after all so the small profile picture icons are used to distinguish who had posted what. Along the icon is also the name listed. Then the semicolon and the message follows. Sometimes it's to share something else or a forward (as is in this case). At the bottom of each post are some information like a time stamp. The first set of text on the left corner tells you how long ago it was posted. Then you jump over one and it tells you which platform was used to post the message, like computer, phone, or other devices.
Moving over to the right hand side:
删除 = Delete = This only appears when it is your own post.
转发 = Forward = Shows you the total number in parenthesis of how many times it was forwarded. You could also click on it to forward the post also; and you could also include a message or an expression of your own (via emoticions).
收藏 = Favorites = You can click on this to save it into your favorites. (Check the 'Navigation' post to access the ones you added to 'Favorites'.)
评论 = Comments = Shows you the total number in parenthesis how many replies (or comments) the post received. You could also click on it to type in your own comment/reply.

That's pretty much it for posts. The disadvantage of the whole stalking process is if you miss a day or so, you won't be able to access posts earlier than 10 pages would allow. When you reached the tenth page and haven't reached the spot where you last left off, time to seek out individual profile pages to further read past posts. (Scroll up to the top–or click on the 'Back to the top' arrow–and click on your 'Friends' list or 'Following' link to go to individual profile pages. Check the 'Navigation' post if you have already forgotten the terms or where to find stuff.) BUT if you have created some lists (like I showed above), sometimes it helps because it narrows down the list a bit more and could help you stalk people in those lists without having to click towards the individual profile pages.
(NOTE: Friday, September 30th, 2011 – Weibo has made changes so that you are able to click on the 'Next Page' button and still continue on past the 10th page. Good news OR what?)
All right, hope that at least help somewhat. Happy stalking!
EDIT: Tuesday, April 26th, 2011
Weibo has made some changes since I did the tutorial so I'm going to add on now.
Using Doze Niu's post as an example now. Remember the parts of the posts?

When click on Forward now, you're allowed several more options than before:

我的微博 = My Weibo
私信 = Private Messages
微群 = Swarm
If you click on the 'My Weibo' tab (which should be the default already), whenever you type and then publish would post to your weibo and people who follows you will see it in their own homepage. If you choose 'Private Messages', you are given a box that would allow you to type in a name/nickname so you could send to that person the contents of that particular post.

收件人 = Recipient
内 容 = Content
If you click on 'Swarm', you will get this box: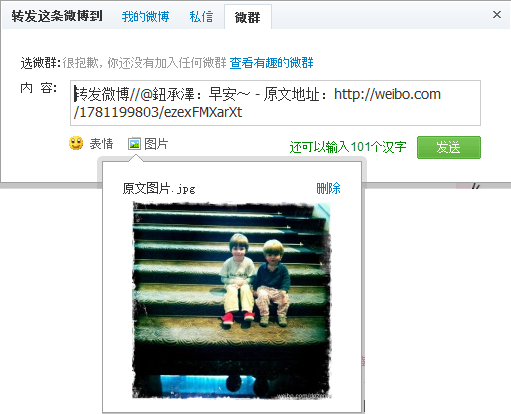 选微群 = Select Swarm/ Group(s)
内 容 = Content
Swarm is posting to the group(s) that you joined. I don't have any groups yet so it shows that I didn't join any, but there should be a list of some sort for you to choose if you joined some groups already. Remember to replace "转发微博" with your own message.
NOTE: All instructions and images were written and captured respectively by DTLCT
IF you have questions OR are confused in any way, please post a comment.